Laughter... The Best Medicene
3 nuns standing before the pearly gates are asked by St Peter a question each before they can proceed to paradise. He looks sternly at the first nun and says, what was the name of the first man? The nun looks up and with some relief answers, Adam. St Peter smiles and says correct then moving his gaze to the next nun he asks , what was the name of the first women, the nun looks up and says Eve. Again, St Peter smiles and moves his gaze to the last nun and asks, what did Eve say when she first saw Adam. The nun looks nervously to the ground and murmurs, wow that's a hard one. St Peter laughs and says correct, paradise awaits.
---
An atheist dies and too her great surprise awakes before the pearly gates of heaven in front of which stands St Peter who greets her warmly. "Welcome", he says, "we have been expecting you", and with wave of his hand the gates open and he offers to show her around. As they move through the magnificent gardens St Peter gestures to the one side and says "over there are the Buddhist, and there the Hindus, and way over there you can just make out the Protestants". She looks around overwhelmed by the serene beauty of the landscape when she notices a magnificent wall stretching on into the distance. "What's behind the wall, she asks?". "Oh, that's where we keep the Catholics", St Peter replies, "they like to think there the only ones here"

Ego vero custos fratris mei sum
Dr. Schambaugh, of the University of Oklahoma School of Chemical Engineering, Final Exam question for May of 1997. Dr. Schambaugh is known for asking questions such as, "why do airplanes fly?" on his final exams. His one and only final exam question in May 1997 for his Momentum, Heat and Mass Transfer II class was: "Is hell exothermic or endothermic? Support your answer with proof."

Most of the students wrote proofs of their beliefs using Boyle's Law or some variant. One student, however, wrote the following:

"First, We postulate that if souls exist, then they must have some mass. If they do, then a mole of souls can also have a mass. So, at what rate are souls moving into hell and at what rate are souls leaving? I think we can safely assume that once a soul gets to hell, it will not leave.

Therefore, no souls are leaving. As for souls entering hell, let's look at the different religions that exist in the world today. Some of these religions state that if you are not a member of their religion, then you will go to hell. Since there are more than one of these religions and people do not belong to more than one religion, we can project that all people and souls go to hell. With birth and death rates as they are, we can expect the number of souls in hell to increase exponentially.

Now, we look at the rate of change in volume in hell. Boyle's Law states that in order for the temperature and pressure in hell to stay the same, the ratio of the mass of souls and volume needs to stay constant. Two options exist:

If hell is expanding at a slower rate than the rate at which souls enter hell, then the temperature and pressure in hell will increase until all hell breaks loose.
If hell is expanding at a rate faster than the increase of souls in hell, then the temperature and pressure will drop until hell freezes over.
So which is it? If we accept the quote given to me by Theresa Manyan during Freshman year, "that it will be a cold night in hell before I sleep with you" and take into account the fact that I still have NOT succeeded in having sexual relations with her, then Option 2 cannot be true...Thus, hell is exothermic."
BATFINK (aka Tony)

GOD gave us a mind to use.........
Suzuki gives us a reason to loose it!!!!
My daughter just walked into the living room and said "Dad, cancel my allowance immediately, rent my room out, throw all my clothes out of the window, take my TV, stereo, iPhone, iPod, and laptop. Please take all of my jewellery to the Salvation Army or Cash Converters. Then sell my new car, take my front door key away from me and throw me out of the house. Then disown me and never talk to me again. And don't forget to write me out of your will and leave my share to my brothers. Well, she didn't put it quite like that... she actually said... "Dad, this is my new boyfriend, Mohammed"
People are like turtles....... you don't move forward unless you stick your neck out!!

Aussie couple driving throughout the US come across an injured skunk on the road. They pick it up to take it to a carer. Wife's holding it out front of her and asks her husband what she should do with it. He says sit it between your legs and keep in warm. Wife says, but it will stink. Hubby says, hold it's nose.
Tathra 2010 - Best Non 'Busa.
Tathra 2011 - Best Non 'Busa.
Robbo meets paddy the Irish backpacker in a pub in Sydney. After a while of drinking and talking, they get onto the subject of good pubs to drink at. Robbo tells paddy about a good pub in lidcombe where the beer is a good price and topless girls walk around all night with free party pies and sausage rolls. "It's great" says Robbo, "you can drink all night without having to go home for dinner"
"That's nothing" says paddy, "Back home in Dublin, there's this little pub where the drinks are free all night" .. "AND .. At the end of the night they take you out the back and get you laid .. All for free !!"
"Bullshit" says Robbo, "I find that a bit hard to believe".
"To be sure, to be sure" says paddy "Well I haven't actually experienced it yet, but it's happened to my sister three times now"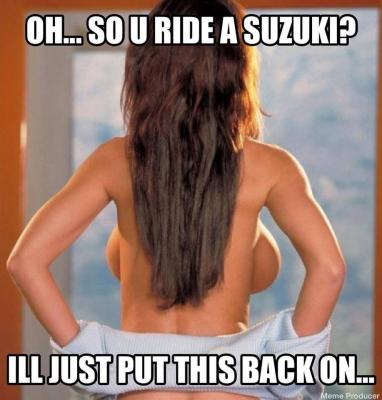 People are like turtles....... you don't move forward unless you stick your neck out!!

Ha .. Even a topless beauty is afraid she'll be outclassed by the sexy looks of the mighty Suzuki ..

look s aren't everything, I will hold my opinion until I find out how she rides ;)
BATFINK (aka Tony)

GOD gave us a mind to use.........
Suzuki gives us a reason to loose it!!!!
14-02-2014, 09:39am (This post was last modified: 14-02-2014, 10:23am by PostmanPete.)
People are like turtles....... you don't move forward unless you stick your neck out!!

Users browsing this thread: 1 Guest(s)