Some Of The Amazing Hayabusa Bike Specs
Specifications for Suzuki GSX 1300R Hayabusa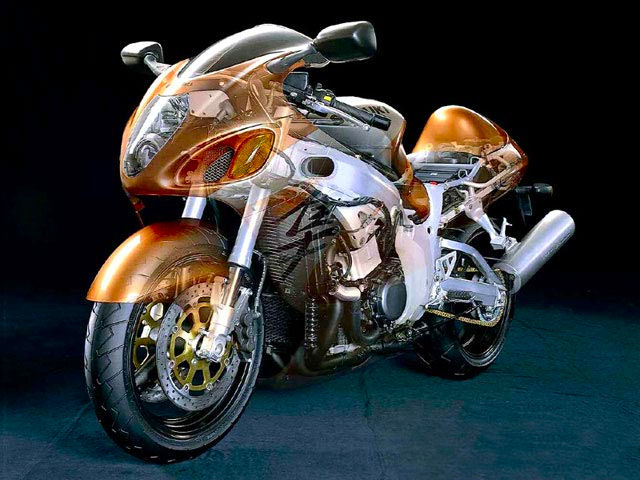 Engine Configuration: Inline Four, 4-stroke, DOHC Engine Displacement: 1298 cc

Engine Cooling System: Liquid

Compression Ratio: 11.0:1

Combustion Chamber Design:  Twin-swirl

Valves Per Cylinder: 4

Intake Valves Per Cylinder:  2

Exhaust Valves Per Cylinder: 2

Bore x Stroke: 81.0 x 63.0 mm [forged ART pistons]

Claimed Peak Horsepower:  175 ps/172.6 bhp @ 9800rpm

Claimed Peak Torque:  102.0 lbs-ft. @ 7000 rpm

Measured Peak Horsepower @ rpm: N.A.

Measured Peak Torque @ rpm:  N.A.

Claimed Power To Weight Ratio: 3.16 pounds/horsepower

Engine Redline: 10,900 rpm

Valve Angle (Included):  28 degrees (14 degrees Intake, 14 degrees Exhaust)

Combustion Chamber Volume: 18.8 cc

Valve Train Type:  DOHC, Link-plate Chain
Drive, Bucket Followers,
Shim-under-bucket Lash

Valve Timing Measuring Point:  0.3 mm

Fuel Delivery System:  Electronic Fuel Injection

Throttle Body Venturi Size:  46 mm

Air Filter Type:  Non-woven Fabric

Exhaust System Type: 4-2-1-2

Ignition System:  Digital Electronic

Lubrication System: Wet Sump

Oil Capacity:  3.7 quarts (3.5 liters)

Fuel Capacity:  5.8 gallons (22.0 liters)

Transmission Type: 6-speed, Constant Mesh

Clutch Type: Multi-plate, Wet Clutch Actuation System: Hydraulic
Clutch Spring Type: Coil
Number Of Clutch Springs: 6
Number of Clutch Plates: 19
Drive Plates: 10
Driven Plates:  9

Primary Drive: Gear

Primary Drive Gear Teeth (Ratio): 52/83 (1.596:1)

Final Drive Sprocket Teeth (Ratio): 17/40 (2.352:1)

Transmission Gear Teeth (Ratios):
6th                  24/23 (1.043:1)
5th                  25/22 (1.136:1)
4th                  27/21 (1.285:1)
3rd                  29/19 (1.526:1)
2nd                 31/16 (1.937:1)
1st                   34/13 (2.615:1)

Transmission Overall Ratios:
6th                   3.918:1
5th                   4.267:1
4th                   4.828:1
3rd                   5.732:1
2nd                  7.276:1
1st                    9.822:1

Theoretical Speed In Gears At Redline:
6th 199 mph / 320 kmh
5th 183 mph / 295 kmh
4th 162 mph / 260 kmh
3rd 137 mph / 220 kmh
2nd 108 mph / 175 kmh
1st 80 mph / 130 kmh

Engine Speed At 60 mph:  3300 rpm
Frame Design (Material): Twin-spar
(Aluminum Alloy)

Rake/Trail: 24.2 degrees/3.8 inches (97mm)

Wheelbase: 58.5 inches (1485 mm)

Seat Height: 31.7 inches (805 mm)

Foot peg Height:  14.6 inches (370 mm)

Handlebar Height: 34.6 inches (880 mm)

Steering Stem to Seat Center: 34.4 inches (875 mm)

Front Forks: KYB Inverted, Cartridge

Fork Tube Diameter: 43 mm

Fork Adjustments: Rebound Damping  14 Positions (clicks)

Compression Damping  13 Positions (clicks)

Spring Preload 15 mm Range

Front Wheel Travel: 4.7 inches (120 mm)

Rear Wheel Travel:  5.5 inches (140 mm)

Rear Suspension Type: KYB Single Shock, Progressive Linkage

Rear Shock Adjustments: Rebound Damping 22 Positions (clicks)

Compression Damping 22 Positions (clicks)
Spring Preload 10 mm Range

Front Brakes: 320 mm (12.6-inch) Dual
Discs, 6-piston Tokico Calipers

Rear Brake:240 mm (9.4-inch) Disc,
Opposed-twin-piston Tokico Caliper

Front Wheel:  3.50 x 17-inch Cast
Aluminum Alloy

Rear Wheel: 6.00 x 17-inch Cast
Aluminum Alloy

Front Tire:  120/70ZR-17 Bridgestone Battlax BT56 Radial

Rear Tire: 190/50ZR-17 Bridgestone Battlax BT56 Radial – OEM tire specs at 198mm

Claimed Dry Weight: 474 pounds (215 kg)

Claimed Wet Weight: 546 pounds (248 kg)

Weight Distribution (claimed): 51F/49R (percent)

GVWR : 948 pounds (430 kg)

Overall Length : 84.3 inches (2140 mm)

Overall Width: 29.1 inches (740 mm)

Overall Height: 45.5 inches (1155 mm)

Ground Clearance: 4.7 inches (120 mm)
Key Features
Aerodynamic fairing design with low drag coefficient.
All fairing components have been designed for reduced drag and turbulence.
Compact 4-stroke, four-cylinder liquid-cooled engine with DOHC, 16-valves, Twin Swirl Combustion
Chambers, plus gear-driven counter balancer for smooth operation.
Electronic fuel injection system, fed by 46mm throttle bodies and ram air intake with large volume airbox.
Lightweight shim-under-bucket valve train with narrow 14 degree valve angle for high combustion chamber efficiency.
High efficiency liquid cooling system for optimum engine operating temperature- including compact air-cooled oil cooler, plus oil-jet piston cooling.
SCEM (Suzuki Composite Electro-chemical Material) plated cylinders minimize cylinder size and improve heat dissipation.
6-speed transmission with high-capacity clutch featuring back-torque limiter system for smooth downshifts and scissors-type primary gear for reduced gear noise.
Large volume 4-into-2 exhaust system with stainless steel head pipes and lightweight aluminum silencers.
Digital direct-ignition system combines an ignition coil with each spark plug cap for reduced weight and stronger spark.
Full instrumentation with ultra-thin step-motor construction. Includes fuel gauge, clock, temperature gauge, LCD odometer and twin trip meters with fuel consumption gauge.
Unique, vertically mounted dual headlight provides a bright, wide beam with a 60W projector-type high-beam and a 55W low-beam halogen bulb.
Rigid twin-spar aluminum frame minimizes weight while maintaining high torsional strength.
Large diameter (43mm) inverted front forks with fully adjustable compression & rebound damping and spring preload, plus steering damper.
Proven link-type rear suspension with remote reservoir shock absorber. Rear suspension features fully adjustable rebound damping and compression damping and spring preload
Bridge-type swing arm with large diameter swing arm pivot shaft provides high swing arm rigidity.
Powerful front disc brakes with large 320mm discs and 6-piston calipers.
Rear disc brake with 240mm disc and 2-piston caliper.
Radial tires mounted on lightweight 3-spoke aluminum wheels. Wide 190-size rear tire is mounted on 6″ wide rim.
Hinged fuel tank simplifies maintenance and provides easy access to the airbox and air filter.
Oh yeah…and it's fast!